Previously unseen photos show young Muhammad Ali at home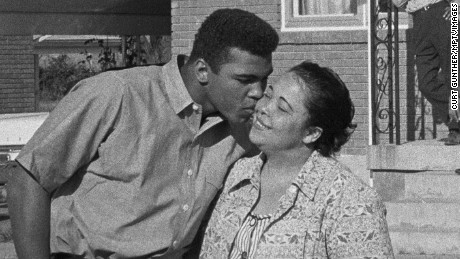 (CNN)In 1960, Curt Gunther was an established sports photographer. A young boxer named Cassius Clay was heading to the Olympics, unknown by most outside his hometown of Louisville, Kentucky, and some avid followers of the sport.
It was probably about then, says Curt Gunther's son, Steve, that two paths crossed, with the young boxer setting out on his history-making course and the photographer setting out to chronicle that course in images.
For decades, Curt Gunther stood by Ali's side both in and out of the ring, capturing the knockout punches that made news, and the candid moments that made up home
life
for a
man
who championed his sport and his beliefs.
Steve Gunther followed in his father's professional footsteps, and he remembers Ali being a photographer's dream.
"Ali would ham it up for the cameras," Gunther says. "He liked to act like he was going to punch the camera. It was probably enjoyable for him and definitely helped the photographers."
The last time Steve Gunther saw Ali was about 32 years ago, but the memories, he says, will last a lifetime.
"I was never impressed with celebrities, but Muhammad Ali is the most amazing human being I have ever met," says Gunther. "The vibe he emanated made you shiver. He had a palpable energy that just filled the room.
"I remember Ali saying, 'If you do more
good
deeds than
bad
deeds, then you'll go to heaven.' I think he's in heaven now."
Read more: http://www.cnn.com/2016/06/05/us/cnnphotos-muhammad-ali-rare-pictures/index.html