Meeting Kenny Baker, the real-live human behind R2-D2 | David Barnett
How the smallest man in show busness made a big impact on writer David Barnett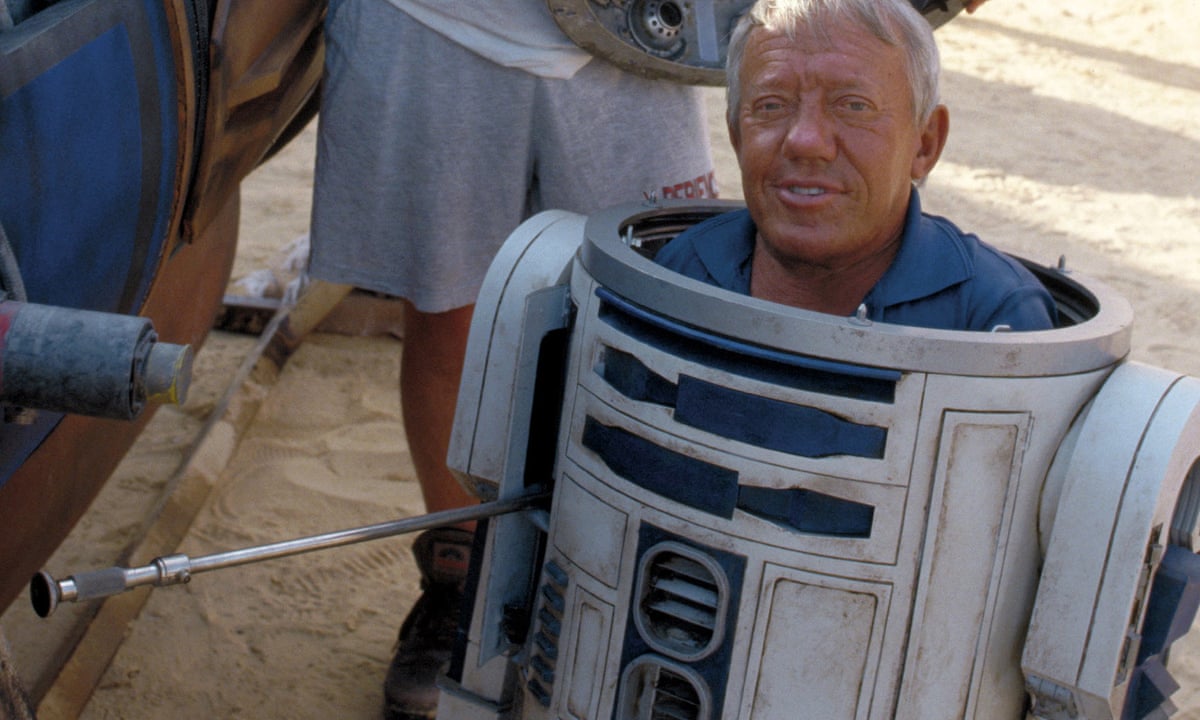 On the pavement by abungalow on aresidential street near Preston docks Kenny Baker was standing by a huge blue Rolls-Royce Corniche. Ive been to Asda, he said. A nice lad put my shopping in the boot, but I cant reach it.
The car did look monstrous beside Kenny 3ft 8in and proud of it. This was the mid-1990s, and not an accidental meeting; Kenny, then 60, had contacted me, a reporter on the Lancashire Evening Post, to inquire whether a small man with a big car might make a nice photograph.
It wasnt the first time hed been in touch: our first meeting, weeks earlier, had been the product of an unexpected newsroom call. Hello! said a voice. Im the smallest man in show business and Ive got the smallest bird in Britain nesting in my garden. Would you like to do a story?
Who am I speaking to? I asked, cautiously.
Kenny Baker.
So either the jazz trumpeter or
R2-D2! I yelled. Fidgit from Time Bandits!
And an Ewok! he said. And aWomble!
I abandoned whatever local news I was working on. The smallest bird in Britain memory fails but Google suggests a goldcrest was absent, but Kenny gamely posed for photographs, pointing in local-paper fashion at the bird box fixed to his garage while Isteadied the stepladder out of shot. He showed me the tiny piano he used in his pre-Star Wars stage act the Minitones with Jack Purvis (a fellow Ewok and Time Bandit), and made me a cup of tea in his kitchen, which he navigated via a wheeled library stool. I could barely contain my excitement at being offered a chocolate digestive from an R2-D2 biscuit barrel.
At our later meeting I asked how he could drive such a huge car. He showed me a pile of cushions on the drivers seat and blocks of wood taped to the pedals though he was planning to get it properly adapted.
I kept in regular contact with Kenny, ever game for a publicity opportunity. One time he posed with aharmonica while standing in the boot of a colleagues hatchback to promote agig he was playing in nearby Wigan.
After leaving Preston I lost touch with him. In 2005 I read that he was banned from driving after being caught behind the wheel, having consumed two glasses of wine. Not long after, his beloved Rolls was sold at auction for 13,500.
Now hes 81, and Kennys name appears in The Force Awakens creditsas R2-D2 consultant. Presumably no one wants a man his age climbing into a tin-can robot forhours on end. But I bet theyd only have to ask.
Star Wars: The Force Awakens is released on DVD on 18 April
Read more: http://www.theguardian.com/lifeandstyle/2016/apr/10/meeting-kenny-baker-the-man-behind-r2d2